A few weeks ago, my friend Jen wrote a "real reality" fashion post in which she asked her readers to help a friend of hers accessorize a dress she had purchased to wear to a wedding. Jen also frequently posts pictures of particular fashion items (clothes, shoes, jewelry), her own or ones she sees online, on her Facebook page and asks readers to comment. Many of her readers responded by asking her to do occasional posts on her own style. The last I heard, she was thinking about it.
So, last week when I found myself looking for a casual dress for everyday type wear, but was having little luck finding anything in the $50 to $60 price range or lower, and having little time to devote to this endeavor at the moment, I thought of Jen. I figured she seemed to have her finger on current fashion trends and availability. She also seems to enjoy "window shopping" around various web sites, so it might be a fun post for her to do. She quickly accepted my request. Thanks, Jen.
What I didn't think about was the exhaustive research she would put into it. I actually felt a little bad when I read her post last Monday (the first weekday since I'd asked her to do it!) and saw how many dresses she had scoped out. I hope she didn't take too much of her weekend time virtually shopping for me.
But I was thrilled with the options she presented to me. Thrilled, I say!! I clicked on every one of the links she provided and carefully weighed my options. Then, I began to select my favorites. Unfortunately, as always happens, some were unavailable in my size, or unavailable in my size in the colors I liked. But after a short time, I selected these three (knowing that the chances of all fitting and looking good were slim, but figuring if I got one dress that I loved, I'd be ecstatic):
This dress from Wal-Mart in neutral combo.
This one from J.C. Penney:
And this one from Sears: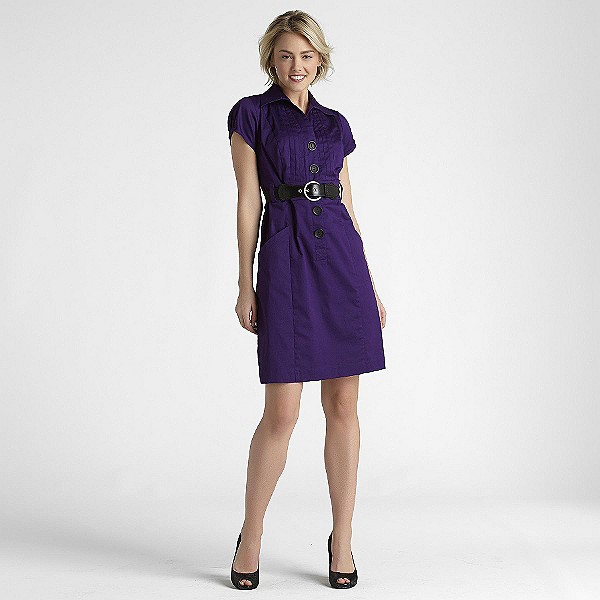 I spent the rest of the week excitedly awaiting the arrival of my packages (among other things). Yesterday, our poor postal carrier arrived at our front door and had to make two trips to carry the three packages and our daily mail.
After making lunch for Sapphire, I headed upstairs to begin trying on my goodies. First, I put on the dress from Wal-Mart. It fit, but was anything but flattering. 😦 It's going back.
Next, came the scroll-print dress from J.C. Penney. It didn't want to zip (although I probably could've gotten it to), but I also wasn't thrilled with the neckline on me. It's also going back.
I was starting to become a little discouraged. The last one was a shirt dress, and shirt dresses often don't look good on me, but occasionally, I get lucky. Like yesterday. It was perfect. The color is fabulous on me (if I do say so myself) and the fit was superb.
It was the only one of the three that I would model for Sapphire, or anyone for that matter.
Last night was Emerald's band concert at her school and I was planning on wearing a pair of black cotton pants and the shirt I'd worn the rest of the day. But I was excited to show Jim and Emerald my new dress (that's how good I felt it looked!), so I modeled it for them before the rush to eat dinner and head out to the band concert.
Their reaction was so good, I decided to wear it to the concert. I'm sure I'll be wearing it many, many places. Not only is it lovely and casual, just as I'd wanted, but it is comfortable as well! Also, Jim kept telling me how perfect it was for me. A win, win, WIN! 🙂
In fact, I am still so pleased with it that I am even going to share pictures, in the spirit of proudly taking and sharing pictures of ourselves, which as you know, is a struggle for me.
So here goes:
Jim suggested that Jen should be my personal shopper from now on. That sounds like a fabulous idea to me, if only she'd agree. How about it, Jen? 🙂
Have you made any great fashion finds recently? I'd love to hear about them!